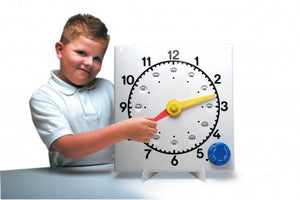 Invicta Teaching Clock - Spanish
A really versatile product for teaching the time in its many formats. By turning the dial, 6 alternative faces appear: 24 hour, roman numerals, minutes, words, fractions - and there is even a blank space to write on! The internally-sprung hands move independently so that time before and after the hour can be shown without the hour hand moving.
The clock can be wall-mounted or used with the desk-top stand.
Size: 40cm x 40cm